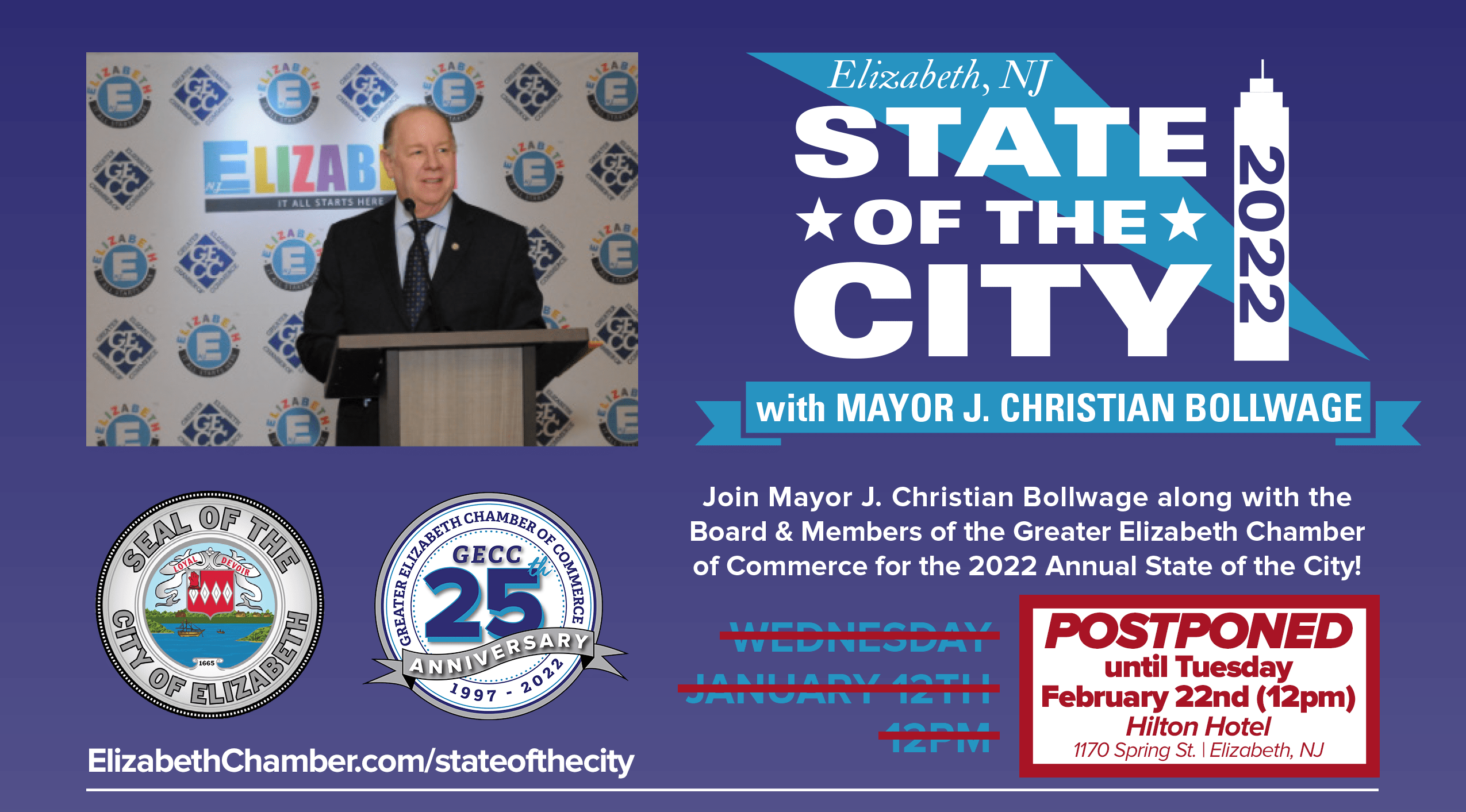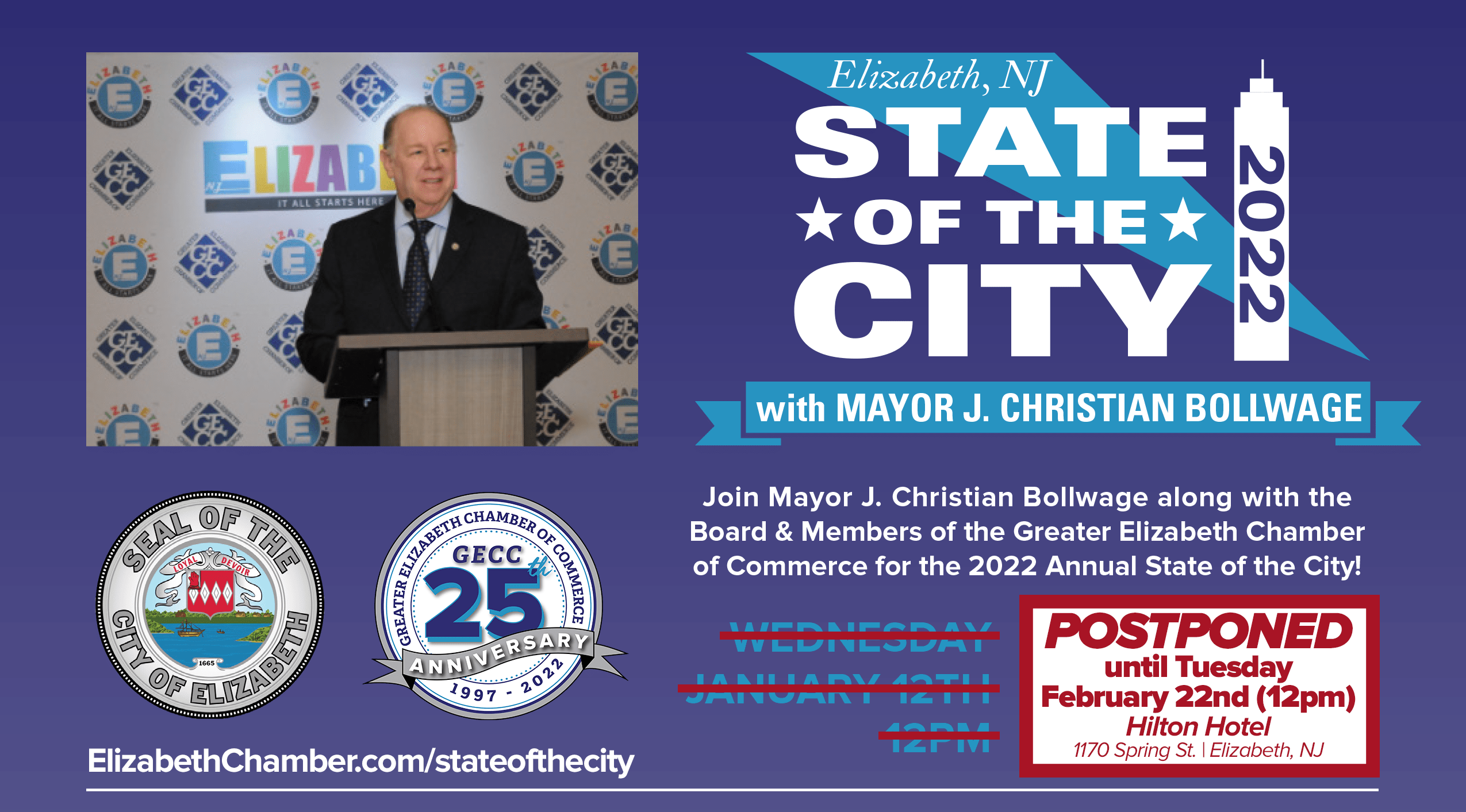 THANK YOU TO OUR ATTENDEES & SPONSORS
With our return to in-person since 2020 due to hardships from Covid-19. the Chamber is without a doubt beyond thankful with this year's guest turnout as we were able to successfully host over 200 in-person guests!
Without the support of our sponsors & attendees, this event would not be possible. The GECC would also like to send a special thank you to: Mayor Bollwage for his support of our chamber and for his endless dedication to bettering the City of Elizabeth, to the Hilton Hotel for allowing us to host this year's State of the City, to all our staff and committee for coming together, and working around the clock to ensure this year's State of the City was stronger than ever before! The Greater Elizabeth Chamber of Commerce [GECC] and the City of Elizabeth graciously thank all its sponsors for the 2022 State of the City address.
PRESENTATION SPONSORS
Elberon Development Group
Elizabeth Destination Marketing Organization
Point Developments
PLATINUM SPONSOR
Union County Savings Bank
GOLD SPONSORS
Northfield bank
New Jersey American Water
Marine Realty
Elizabeth | Fast Ferry
Jacobs Enterprises, Inc.
PSE&G
JCT Solutions
Fusus
Plumbers Uniter Association | Local 24
REGISTRATION SPONSORS
UCEDC Resources & Solutions for Small Businesses
Covanta
The Greater Elizabeth Chamber of Commerce [GECC] is proud to celebrate its 25th Anniversary this year in 2022!
We are grateful for all our original Charter Members. It is our privilege to honor them!
Our new seal will be used all year long to celebrate the 25 years of serving our local business community.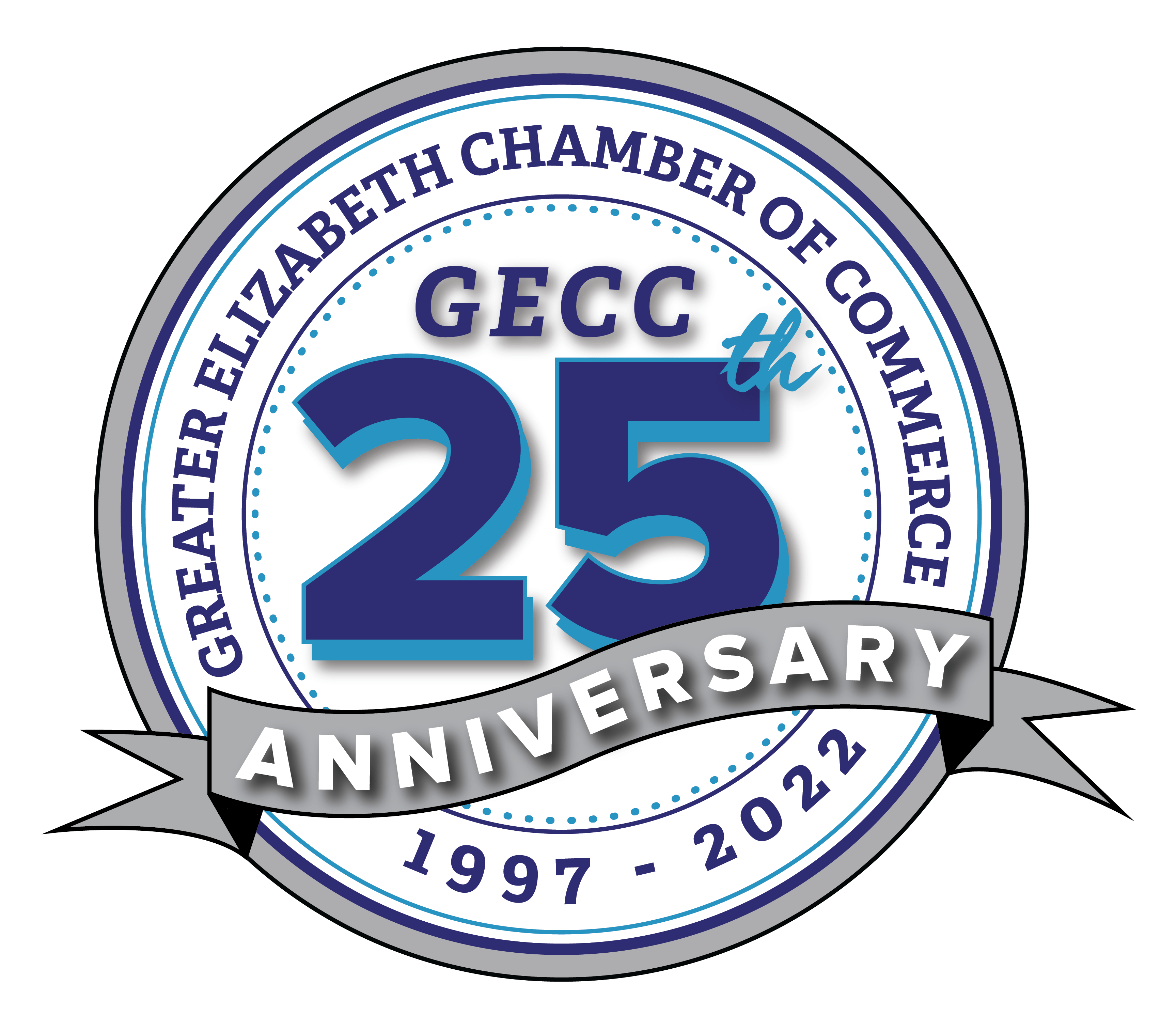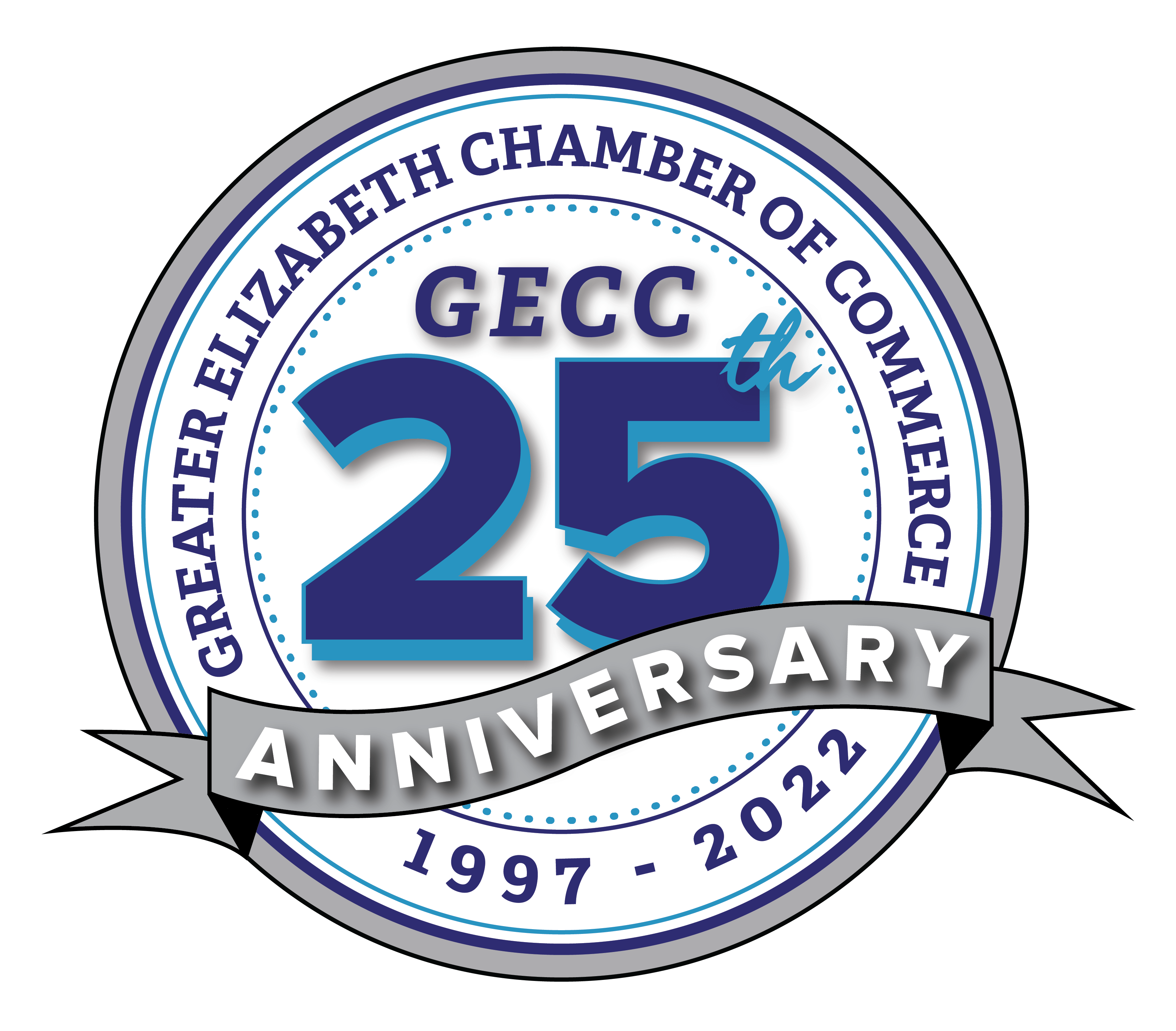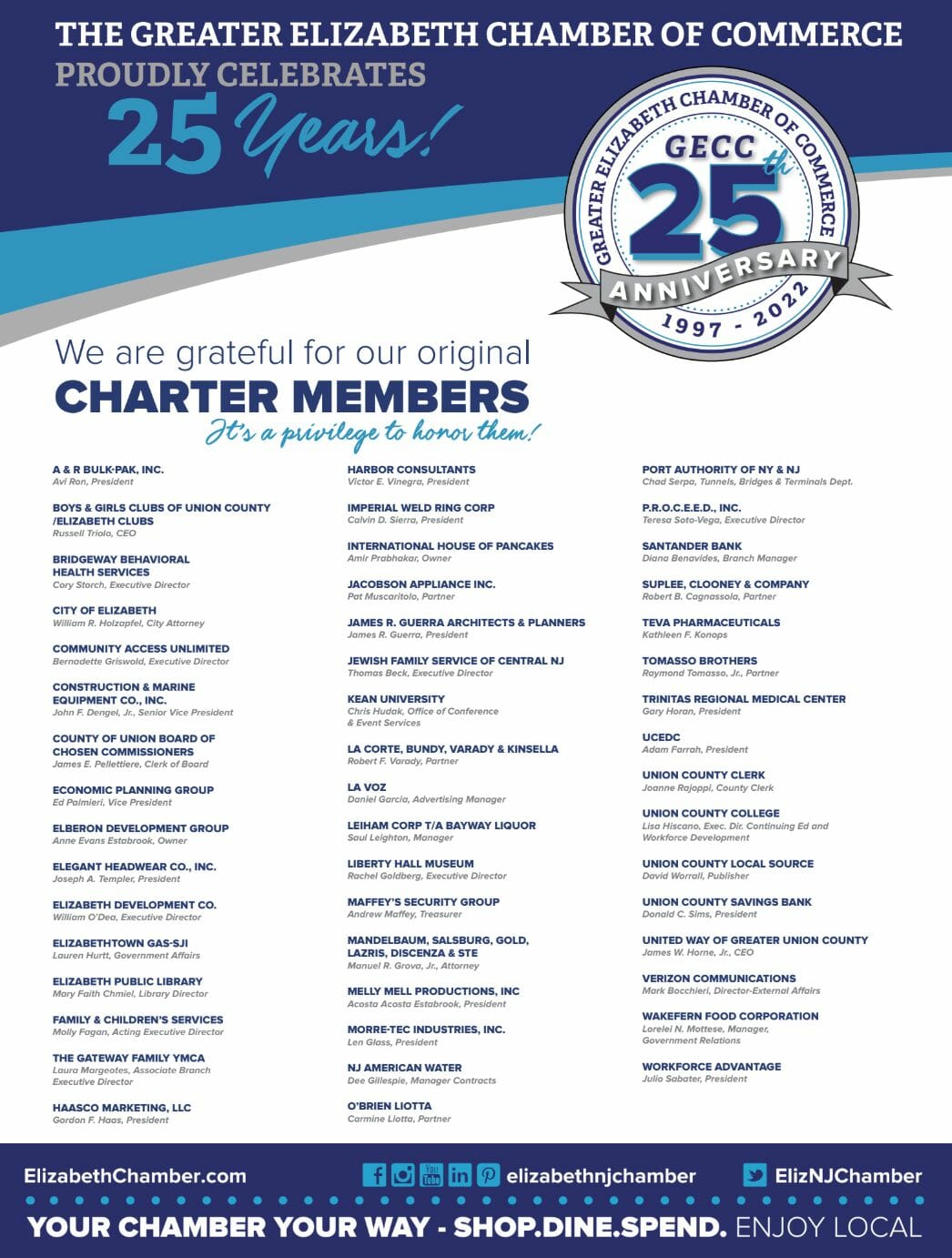 A Message from Mayor J. Christian Bollwage
Click the image to watch the full video, or visit our Youtube channel!
Thank You to our 2021 State of the City Sponsors.