Become a GECC member by completing the online membership application and tell us about your business. We look forward to receiving your application and will be in touch shortly to welcome and invite you to our next Chamber event.
1-25 Employees or Non-Profits
$350
Sustaining Members
$2,000
Join today, it's the best investment you can make!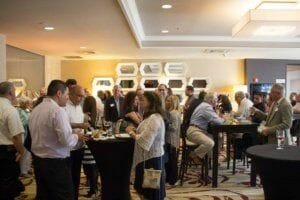 Networking Events
Members of the GECC gain the advantage of growth by networking. With free monthly "Business After Hours" networking events, businesses have the opportunity to come together to showcase their skills and services while learning about others. View our events calendar!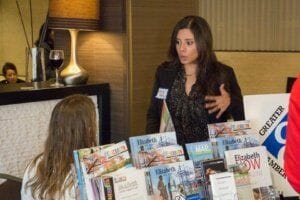 Advertising Opportunities
Increase your visibility with advertising opportunities in the GECC magazine, Elizabeth NOW or the weekly eNewsletter!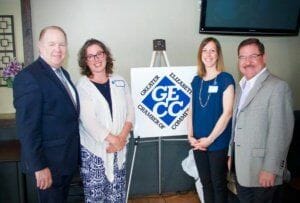 Business Credibility
Members gain the opportunity to get involved positively in the community as well as the ability to meet local politicians to stay on top of the local and state business issues and address their concerns.

The Greater Elizabeth Chamber of Commerce provides a means to network and advertise. The Chamber provides a "window of opportunity" for every member to benefit through association with reputable businesses and organizations. The chamber affords opportunities to meet area politicians to stay abreast of local and state issues that could impact your business.
Members gain the advantage of:
Growth by Networking
Opportunity to advertise in Elizabeth NOW magazine
Visibility in the community and increased understanding on how to better serve the needs of their customers
Access to professional development
Business credibility and advocacy
Discount Programs on Office Supplies through the National Chamber Program
Benefits of Membership Include:
On-Line Member Directory
Networking
Business Socials
Membership Identification
Weekly e-Blast Newsletter
Referrals
Influence
Seminars/Workshops
Marketing Services
Free Networking Business-After-Hours
Mayor's State of the City Address
Legislative Breakfast
Annual Dinner Cruise
Personal Touch: Every local member who joins received a visit from a Chamber representative, who will come to learn about YOUR business, your goals and how the Chamber can help you. It is our mission to get every member off to the right start, to insure that they get the maximum benefit of Chamber membership.
FREE: More than 80% of our events are FREE for our members! Gone are the days when every event has a price tag. Every member can advertise in our weekly e-blast (minimum 7-day notice required) and receive mailing lists at "no costs". In addition, members have the opportunity to enjoy $250 off of their own membership renewal through our Refer 3 program incentive: REFER 3 (and they join) GET $250 OFF YOUR NEXT RENEWAL.
Pay-it-forward mindset: We are reinventing the model for networking. We bring people together who understand that the most effective way to form meaningful relationships and collaborative partnerships is by HELPING and not just by "selling".
No cliques, no politics, no stuffiness: We pride ourselves on having the absolute BEST members because everyone is approachable. You will find an energized atmosphere where our members and guests have fun connecting with one another.
Promote your business/organization: Everyone who attends our monthly Business-After-Hours event is placed in a drawing for the opportunity to publicly promote their business. The spotlight shines on you!
Chamber members are more reputable, customer friendly and dependable.
Office Depot Discount Program: Our partnership with the Office Depot brings cost savings for you, our members!
Credit Card Processing Notice: We encourage payments to be made via check to save 3.9% on the credit card convenience service fee. We thank you for your understanding and continued support.
One of the most beneficial opportunities that joining the Greater Elizabeth Chamber of Commerce provides is the ability to access other businesses through our FREE monthly "Business After Hours" networking events. Attending these events opens the door to meet new contacts and help to secure new customers, business opportunities and partnerships.
Each event is hosted by a chamber member with complimentary refreshments. You can savor delicious appetizers while you network in a fun and friendly atmosphere! These events also provide our members with the opportunity to experience firsthand, a variety of available products and services throughout our community. All of our Business After Hours events are listed on our Events page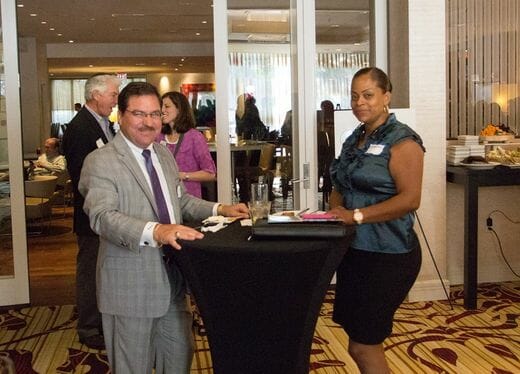 Ranked in the top 25 chambers in the state of New Jersey, finding a chamber member who can help with your business needs is easy. Take a look at the extensive list of business categories that you can connect with as a member of the Greater Elizabeth Chamber of Commerce!
Accounting
Advertising
Air Conditioning, Heating & Plumbing
Air Freight
Airlines
Alternative Energy Company
Antiques
Architects
Artists
Attorneys
Automobile Dealers
Automobile Manufacturer
Automobile Parts & Services
Aviation Fueling
Awards, Gifts & Laminating
Bail Bonds
Bakery
Banks
Business Brokers
Business Organizations
Cable Television
Car Rental
Car Wash
Caterers
Chemical Manufacturers & Distributors
Cleaning Service & Supplies
Clothing
Collection Agency
Commercial Painting
GPS Tracking
Hair & Beauty Care Spa
Handyman Services
Computer Programming
Computer Sales & Services
Construction & Building Materials
Consultants
Copiers
Credit Card Processing
Cultural Resources
Customs Brokers
Disposal
Distributors
Dredging
Educational Services
Electrical Contractors
Employee Services
Entertainment
Environmental
Event Planner
Exhibit Supplies
Fax Broadcasting
Fences
Financial Services/Investments
Fire & Water Damage Restoration
Fire Proofing
Fitness Centers & Gyms
Flags
Floor Covering
Florist
Food Services
Freight Forwarders
Funeral Homes
Furniture Office & Home
Government Agencies
Healthcare Facilities & Services
Helicopter Tours/Flight Instruction
Home Appliances & Electronics
Home Improvement
Home Inspection
Hotels/Motels
Imports/Exports
Industrial Laundry
Industrial Services
Insurance
Insurance Adjuster
Internet Marketing
Jewelers
Landscaping
Laundries
Lighting
Locksmiths
Logistics
Mail Delivery Services
Manufacturers
Marketing Services
Movers
Newspapers/News Sources
Office Supplies
Oil Tank Sweeps
Packaging & Shipping Supplies & Services
Party Rentals
Payroll Services
Pest Control
Pet Apparel
Petrochemicals
Petroleum Related Services
Pharmaceutical Manufacturers
Pharmacy
Photography
Pizzerias
Printers
Promotional Products
Property Management
Psychological Counseling Services
Public Relations
Publishers
Real Estate
Recycling
Repairs
Restaurants
Retail Trade
Security Services
Security Systems
Signs & Signage
Social Service Organizations
Sports Team
Telecommunication Services Equipment
Tourism Development
Towing
Training
Transportation Services
Travel Services
Trucks-Sales & Service
Utilities
Warehouse Services
Web Development & Hosting
Wholesale Trade